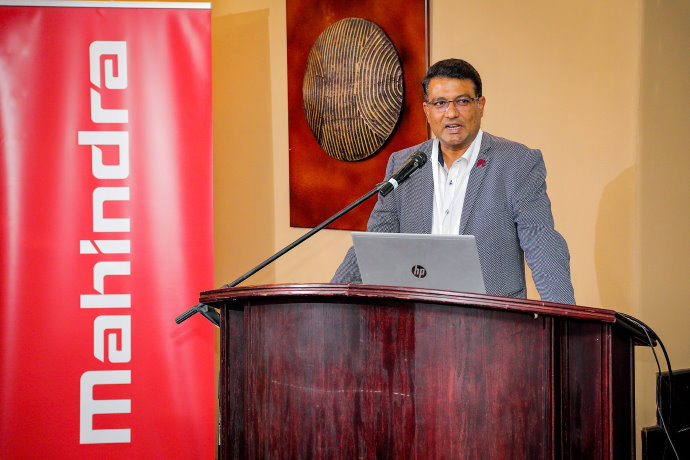 Mahindra has made no secret of its focus on vehicle safety and developing vehicles with the highest possible safety standards.
The company underscored this commitment with a recent announcement that the Global New Car Assessment Programme gave the Mahindra XUV300 a full five-star test rating in its #SaferCarsForAfrica vehicle crash test campaign.
With its five-star rating, the XUV300 is officially the safest vehicle ever tested for the #SaferCarsForAfrica campaign. This mirrors an equally impressive achievement in India, where the XUV300 also reigns supreme and where the GNCAP testing authority gave Mahindra their first Safer Choice Award for their commitment to road safety.
We sat down with the CEO of Mahindra South Africa, Rajesh Gupta, to talk about Mahindra and road safety.
1. Your XUV300 is the first vehicle to receive a full five stars from the GNCAP. How did you achieve that?
We are indeed very proud of our achievement, especially since the XUV300, which was tested was only equipped with two airbags and not seven like on our top-of-the-range W8 models. This means that even the entry-level models meet the highest GNCAP safety standards.
To receive such a high crash-test rating requires very intricate planning and testing by the engineering and design departments, well before the first XUV300 was ever built. The very platform and body of the XUV300 are designed to best disperse crash energy and keep the occupants safe.
With such fine engineering as the foundation, the dynamic safety equipment simply adds to an already high standard.
2. Vehicle safety is not the most glamorous marketing topic. People are often far more interested in performance and handling. Why focus on safety?
Mahindra believes in making a positive contribution to every society in which it operates. This is especially true in South Africa, which we see as our second home outside of India.
During the lockdowns of 2020, we focused our corporate social investment and support on our public health officials and anyone in an essential service. For 2021, we shift our focus to road safety. South Africa still has one of the highest incidents of road accidents and deaths of any developing country, and we feel we can make a meaningful impact by adding to the body of knowledge on road safety, responsible road use and the working and importance of different vehicle safety equipment.
We realise that road safety takes a back seat to more emotive marketing topics, but with the XUV300 we have shown that you do not have to compromise between performance and safety, you can have both.
We would consider this campaign a success if people start caring more about their vehicle's active and passive safety equipment and, where applicable, take heed of the external endorsement from a global authority like the GNCAP.
3. You mentioned that the entry-level XUV300 was tested in the GNCAP crash tests. Why not choose a more expensive model with more safety equipment?
That is a very important question. By testing the most basic XUV300 model, we can get a very accurate assessment of the integral safety of the vehicle and of the baseline protection that every owner of an XUV300 can expect.
If you test only the vehicle with the most safety equipment, as some manufacturers do, you may create a false impression of the level of safety of a specific model range.
We want to make sure that people realise that with a Mahindra, you do not have to compromise on the things that matter to you, simply because you are looking for a more affordable vehicle.
4. In its tests, the GNCAP makes reference to dynamic and passive safety. Could you briefly explain the difference?
Dynamic safety refers to all the equipment that help to keep the occupants safe while the vehicle is moving. It includes equipment such as ABS brakes and electronic brake-force distribution and also the way in which the vehicle was designed to be sure-footed and predictable, even in emergency manoeuvres.
Passive safety equipment only works when it is called into action, for instance when you are in an accident. This includes airbags and seatbelts.
Both active and passive safety are dependent on good engineering and design. If a vehicle is poorly designed, the addition of ABS brakes or airbags may not be enough to mitigate the force of an impact.
This is why a crash test like the GNCAP tests are so important because it exposes every vehicle to the same impact forces and then to determine, in black and white, how well they perform.
5. Mahindra is headquartered in India, another country with a high road fatality rate. Does this influence the way in which Mahindra looks at vehicle safety?
Much of what Mahindra is doing in South Africa will mirror similar campaigns and activities in India. For instance, for their 2020 Road Safety Week, Mahindra employees in India volunteered 17 337 hours of their free time to help with charitable projects focused on advancing road safety.
Our #SaferDrivesSaferLives campaign also mirrors what Mahindra is doing in India, and we hope it will have an equally large impact on road safety in South Africa.
To return to your question, the safety of our vehicles is at the very heart of our vehicle design and testing process. For instance, the new Thar, which is expected in South Africa later this year, recently achieved a four-star rating, which is the highest ever for a new vehicle with a ladder frame.
As we develop the next generation of our models, we will make sure that the highest level of safety is designed for the vehicles.
Source: https://www.arrivealive.co.za/